From New York Times
In June 2010, four days of ethnic rioting erupted in the southern city of Osh, putting the country in serious danger of fragmenting. Accounts from witnesses lent powerful credence to suspicions that the violence was organized, pointing to pro-Bakiyev rogue elements of the Kyrgyz government and military.
Hostilities began late last week (Thursday, 10th June) and have led to one of Central Asia's worst humanitarian crises in recent decades as marauding bands of Kyrgyz singled out Uzbek neighborhoods. The death toll is in the hundreds, and as many as 100,000 Uzbeks have fled their homes and are in makeshift camps on the border area between Kyrgyzstan and Uzbekistan.
From English.news.cn
BISHKEK, June 21 (Xinhua) -- The death toll in clashes in southern Kyrgyzstan has reached 208, with 2,101 others injured, the country's Health Ministry said on Monday. Earlier, the Kyrgyzstan interim government has decided to extend a state of emergency in the southern city of Osh and other areas to June 25.
"The interim government of Kyrgyzstan extends the state of emergency in the city of Osh, in Uzgen, in Kara-Suu and in the Aravan district of the Osh region until June 25 inclusively," said an official statement.
The state of emergency imposed after ethnic clashes was due to expire on Sunday. A Xinhua reporter in Osh said that stability and calm began to return to southern Kyrgyzstan, and the border areas between Kyrgyzstan and Uzbekistan.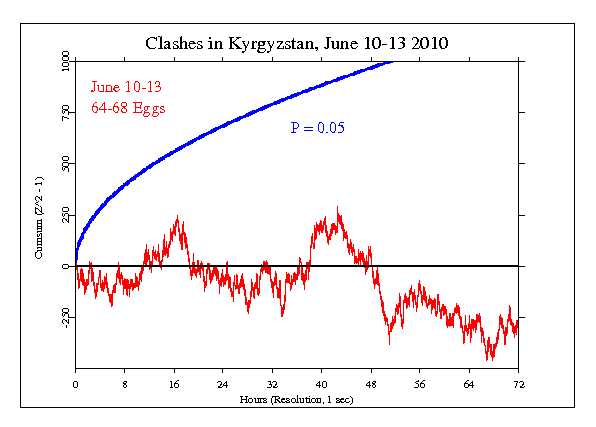 It is important to keep in mind that we have only a tiny statistical effect, so that it is always hard to distinguish signal from noise. This means that every "success" might be largely driven by chance, and every "null" might include a real signal overwhelmed by noise. In the long run, a real effect can be identified only by patiently accumulating replications of similar analyses.