My friend Chino sent a note saying that in the midst of the tragedies on the world stage,
[T]here was some pleasant diversion in India. Last night India played the final cricket match between India and Sri Lanka at Bombay. It was truly an exciting match and the whole subcontinent comprising 1.5 billion people plus Australia, New Zealand, England and South Africa (the main cricket playing Nations) were glued to their TVs from 2.30 pm to 10.45 pm (India time), with the climax coming at 10.50 pm when India won the world cup after a gap of 28 years!

I was wondering whether it may be worth looking for some effects during this time!
Though I didn't want to make this a formal event, it was another opportunity to explore sporting events' possible effects on the GCP network (they have generally been weak or null), so I asked Chino for a more focused prediction, and he responded that:
World cup fever gripped the country from the moment India beat Pakistan on 30th March to enter the finals. The India-Pakistan Match was in itself equally exciting with the Prime Ministers of India and Pakistan watching it at Chandigarh. That was on 30th March between 2.30 pm and 10.30 pm!

But may be you should look primarily between 10 pm and 11 pm on 2nd April!
Indeed if we do look at this moment, the outcome is a significant deviation, mostly coming just at the very end of this time period.
What is most striking, however, is the picture of the data from the whole match. In contrast to the positive deviation of the finish, the 8-hour period of the full match shows a persistent low correlation in the network, so much so that the trend culminates in a deviation that has roughly 100 to 1 odds. See the second figure below. Please remember that these pictures of data are showing a combination of a small signal in a sea of noise, meaning that they cannot be interpreted literally.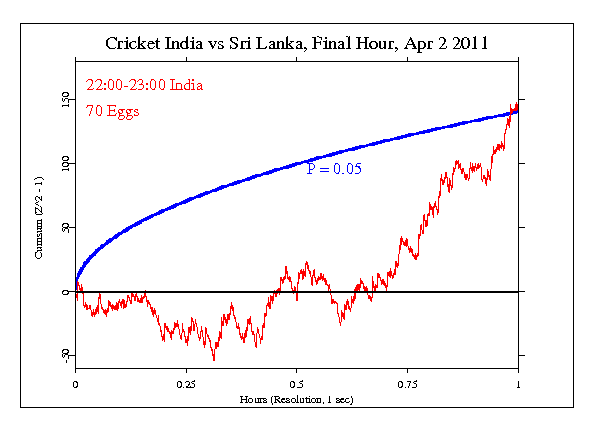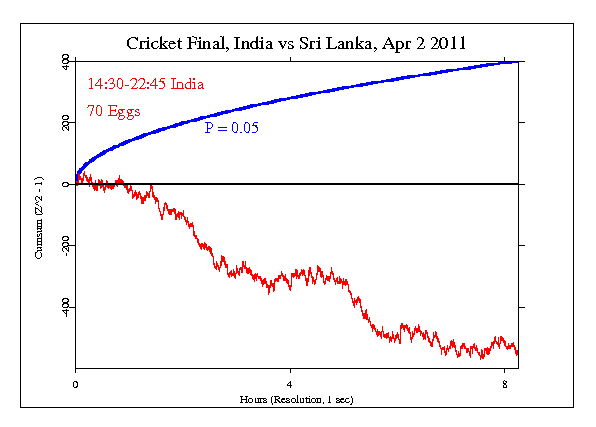 It is important to keep in mind that we have only a tiny statistical effect, so that it is always hard to distinguish signal from noise. This means that every "success" might be largely driven by chance, and every "null" might include a real signal overwhelmed by noise. In the long run, a real effect can be identified only by patiently accumulating replications of similar analyses.