On September 11, 2004 an organization called Hello from the Heart organized and promoted a global meditation. The groups cooperating in this project included World Puja and Healing Sounds. This was the invitation:
Please join us on Saturday, September 11th from 1:19 PM to 3:19 PM, for a free World Puja internet broadcast on www.worldpuja.org .

The event is: "HELLO, FROM MY HEART" - DAY OF AWAKENING AND MERGING OF OUR COLLECTIVE HEARTS. This worldwide gathering has the intention to expand the spirit of love and true cooperation in order to manifest a better world for all of humanity.

On this day, a genuine "Hello, from my Heart", is connecting a multitude of people around the world establishing a unified field which advances mankind's desire for peace.
Although we did not make a formal prediction, I agreed to do an exploratory analysis since we have looked at a number of these events in the past, and it is valuable to examine a series of replications.
The data do not show a significant trend. This is of course no indication of the success of the day or the intent of the people involved. The following figure shows the period specified by the organizers. The Z-score is 0.076, which corresponds to a probability of 0.470.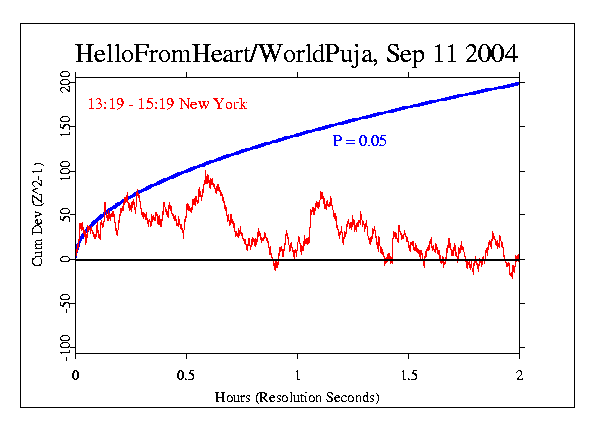 The organizers of Hello, From My Heart Day describe it as an "all-day-event with millions of participants in 22 countries including 36 United States. The web-cast [above] was only for two hours and reached only a very small (100 person) audience. Inferences from past experience indicate the energy builds to a climax in the evening hours." Given this description, we looked at the full day (GMT) as shown below. Although there are some periods with substantial excursions, it is indistingushable from an ordinary random walk. Sometimes we do see strong correlations of GCP data with web-based, large scale meditations, but it may be that direct the experience of the participants is a better measure of the event's presence in the world.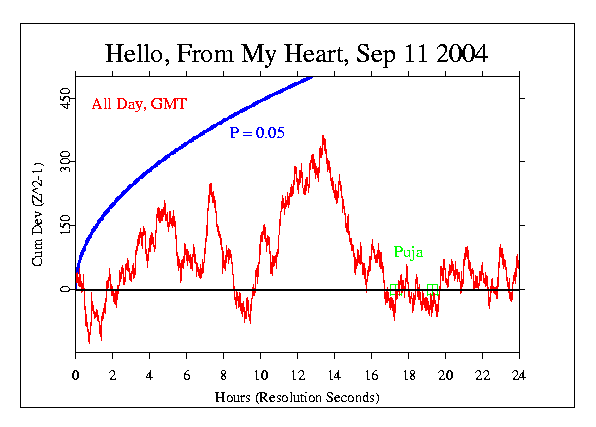 Upon request, I looked at the Hello from my heart event in 2002, August 1st. The result is a fairly strong persisting trend in the downward direction. While this is not guaranteed to be a result of the organized meditation, the trace does have similar character to other meditation events.